We hear a lot about the Baby Boomer generation, gen X, the Millennials and gen Z, but in the time it took us to raise those generations we have seen a major decline in the amount of time children are at play and a major rise in childhood mental disorders. 
As each generation has had less and less time to play, especially independent, self-directed play, they have had more and more diagnoses of mental disorders, especially depression/anxiety, ADHD, and narcissism.
I think it is time to end this 70 year trend! Let's give our children the gift of PLAY and raise Generation Joy!™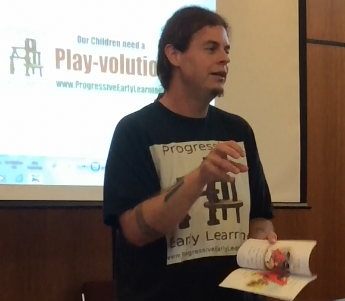 Hi, I'm Drew Beeman
from Progressive Early Learning
Drew Beeman is an Early Childhood Educator and Specialist. In 1990 he took the Red Cross babysitters course and began babysitting. In 1999 he began working in child care centers. In 2008 he moved to Rochester to be mentored by Lisa Murphy "the Ooey Gooey Lady", who took him under her wing and co-taught with him in a preschool classroom. Today he is still working with young children. He has a degree in Early Childhood Education and has over thirty years experience working with young children. He has worked in childcare and preschool programs as support staff, Lead Teacher, and as a Program Coordinator. He has recently been presenting professional development training to program staff. His training presentations are fun, interactive, and informational, with the intent to include evidence based practice as new information becomes available. He has also been providing other services for child care and preschool programs such as on-the-job training, mentoring, coaching, consulting, and more.
"He is extremely well-versed in early childhood pedagogy, behavior and development." –Rachel, parent and University Professor
Check your inbox to confirm your subscription